Wintar Sport Horse Services was named on behalf of two very unique horses - "Windy"(Desert Squire aka The Grey Ghost) and "Tara" (Second Choice aka Boss Mare).       
                          Windy (Desert Squire)
             Tara (Second Choice)
 These two amazing horses were the foundation of our Sport Horse operation " Win-tar ". If it weren't for these two great horses, our program wouldn't be where it is today.
Wintar Sport Horse Services has been successfully producing, training and showing champion CSHA conformation horses for over 25+ years. These horses all go on to be successful performance horses in the Hunter, Jumper, Dressage and Eventing rings in Canada and the USA.
We offer a wide variety of services from: Starting (backing), Solid Basic Training (walk/trot/canter/starting over fences etc), Line Showing & Line Show Training, Stallion Management, Trailer Training and breeding service.
About: Ginny Johnson            
 Photo credit: Diana McDonald
I have been actively training and riding young horses since 1978. Raised in the city, I spent all my time dreaming of horses until I purchased my first horse at age 15. This is when I began living my dream.
My first horse was an un-broke, field raised, 18 month old, registered Anglo-Arab, who looked like he just arrived from the wilds - "Windy".
As most young girls, I had great expectations for my new buddy. This drive gave me the determination to create an amazing partership and to develop a horse that would trust me through anything. This great horse Windy and I went on to compete in Low Hunter, Eventing, Trail Horse Trials (Obstacles), Western Trail Classes, Native Costume and we drove a cart & sleigh in winter.
His greatest accomplishment was as soulmate / best friend to me and later as Santar's field companion for 7 years until Windy's passing.
Approxiamtely 2 years after we acquired Windy, we purchased our second horse, "Tara", from a private owner who stabled the mare at a local stable / riding school. She proved to be another educational challenge, as she had been soured in her past as a jumping horse and required re-schooling to develop her trust and confidence. After I re-trained Tara, we went on to successfully compete in Hunter, Junior Jumper (3'9), Eventing, Cross-Country Trials (Reserve Champion for Ontario) and Competitive Endurance.
During this time, I began breaking and training horses for a local breeding & competitive stable, Millgrove Farms and this is where my breeding horse education began. Millgrove Farms stood the successful Thoroughbred & Canadian Hunter Improvement Society (CSHA) stallion "Shine Sun". They managed numerious broodmares, various ages of foals / youngsters and they were also a actively competitive Endurance and Hunter stable, competing & training 4-6 horses a season.
I have also been a very active Riding Instructor for both Adult & Junior riders including Pony Clubbers. I am a Line Handling Instructor and have given numorious clinics on Conformation, Line Handling, Riding Cross-Country for both the CSHA, Pony Clubs and Private stables across Ontario. I am presently a Senior CSHA Inspector (since 1988 - 25 yrs), which has included CSHA Inspections in Ontario, Western Canada and Eastern Canada. I have Judged both Line shows and Schooling performance shows (Hunter, Jumper, Dressage & Cross-Country) across Ontario and in Eastern Canada.
I continue to back, train and produce horses with the a solid foundation for any performance ring in any discipline, including Lt Governor's General Cup horses.
                 Performance Trained with:               
                        Ian Black - Eventing
                        Diana Billes - FEI World Cup Dressage
                        Sally Strachen (England) - Eventing
                        Dieter Werner - Hunter/Jumper
                        Kenneth Hodges - Dressage
            Additional Experience with:                 
               Bruce Davidson - Eventing
               Wayne Mclellan - Hunter
               Nick Holmes Smith - Eventing
               Gail Greenough - Jumper
               Lisa Carlson - Jumper
Practiacl Experience:
Alliston Equine Hospital - Veterinary Clinical / Surgical Assitant (show & races horses)
Seneca College - Diploma: Horse Industries & Operations (2 year Program)
Millgrove Farms - Trainer, Stable Management, Foal & Mare Care, Stallion Manager
Cathcart-Bristow Racing Stables - Thoroughbred Stallion Manager & Broodmare Scheduling
Fox Run Stables - Show Stable Management, Exercise Rider & Equine Retail/Wholesale shop
Curraughmore Farms - Thoroughbred Broodmare & Foal Care
Carter's Quater Horse Training Center - Stable Management, Exercise Rider, Stallion, Broodmare & Foal Care
Waples Racing Stable - Standardbred Caretaker & Exercise driver
Burn Racing Stable - Standardbred Caretaker
          Etc.........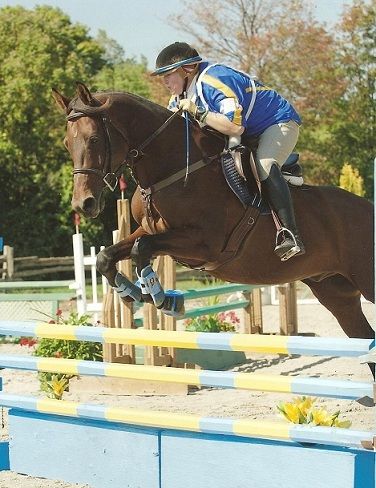 Photo credits: Photography by Bailini